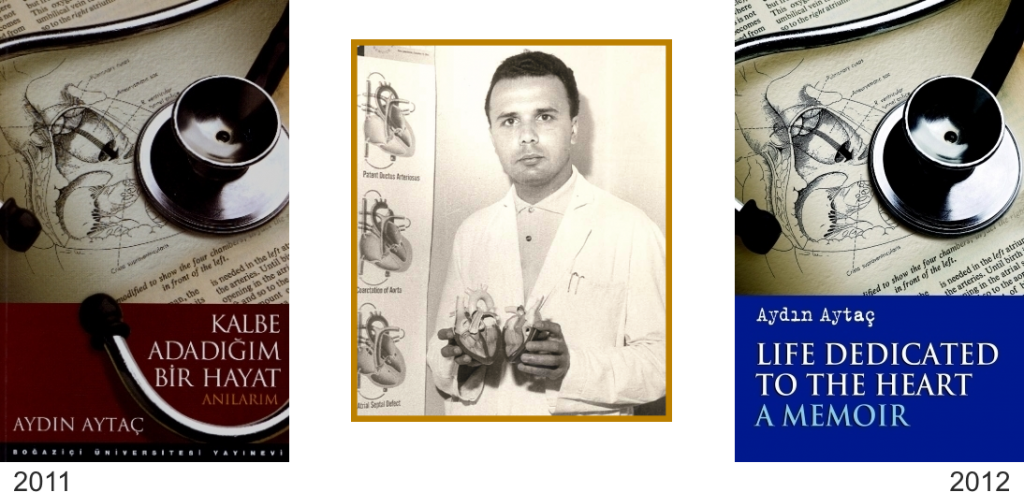 Founder and First Chair of the Department of Pediatric Cardiology at Hacettepe University
In 1969, I set up the first Pediatric Heart Department at Hacettepe and worked there up to 1984.
(Hacettepe Years 1962-1984)
Founder and First Chair of the Department of Cardiovascular Surgery at the Cardiology Institute of Istanbul University
In 1984, I established the Department of Cardiovascular Surgery in the Institute of Cardiology at Istanbul University and there for 10 years.
(İstanbul University Years 1984-1994)
Founder of the Department of Cardiovascular Surgery at Florence Nightingale Hospital
Within this period, I also set up the Cardiovascular Surgery Department at Florence Nightingale, a foundation hospital affiliated with Istanbul University, established by the rectorate of the university.
Founder and First Chair of the Department of Cardiac Surgery at American Hospital
In 1993, while still at Istanbul University, I was also making the necessary arrangements for the Cardiovascular Surgery Department I had agreed to set up in the American Hospital.
The management of the Vehbi Koç Foundation American Hospital was planning to start a Cardiovascular Surgery Department and they come to me with a proposal in 1992.
(American Hospital Years 1993-2008)
Advisor to Anadolu Health Center and Coordinator of the Department of Cardiac Surgery and Cardiology
Between 2000-2004, while still at American Hospital, I acted as a consultant to the Anadolu Medical Center during its establishment stage in Gebze-Çayırova, affiliated with Johns Hopkins, one of the most reputable hospitals in the U.S. I was pleased to do my best to contribute to their efforts, particularly in putting together the heart surgery staff in the hospital.
Anadolu Medical Center is a hospital established by the Anadolu Foundation. I have been a member of the Board of Trustees of the Anadolu Foundation for 20 years. When the Anadolu Medical center started offering its services, I continued to attend the board meetings for a while.

Member of the European Board of Thoracic and Cardiovascular Surgery Examination Committee
In order to get a license to work in all European Union countries, doctors who complete their heart surgery residency must successfully pass an annual examination organized by the European Board. Those who do not take this exam, or who take it, but fail, can work only in their own countries.
In the year 2000, when the examination committee was formed, the eight most competent professors of cardiac surgeons were elected as members of committee. Even though our country was not a member of the European Union, I was formally informed by Dr. Hans Huysmans, Chairman of the European Board, that I was elected as one of those eight individuals.
Every year, for a period of five years, I participated in the examination process. In 2006, chairman sent me a letter informing me that I was elected as a member of examination committee for five more years. I replied, saying it would be an honor for me to go on, but due to macular degeneration developing in my eye since 2005, it would not be appropriate for me to take part in the examination process.
Honorary Member of the European Society for Cardiovascular Surgery
At the Fifty-Third International Congress of the European Society for Cardiovascular Surgery held June 2-4, 2004 in Slovenia, President Jean Claude Schoevaerdts presented me with my Honorary Membership certificate.
Two months before the congress, I was notified that in addition to the 10 Honorary Members elected in a span of 54 years, I had been elected as the 11 th Honorary Member of the Society.
(Awards-ESCVS)
Honorary member, Vehbi Koç Foundation American Hospital
I received the "Prize of Honor" from the Vehbi Koç Foundation American Hospital in 2002.
(Awards-A.H.)
Honorary President, Turkish Society of Cardiovascular Surgery
http://www.tkdcd.org/content/31/kurucu-uyeler
Honorary President, Children's Heart Foundation
http://www.ckv.org.tr/a_aytac.aspx
Founding Member, Turkish Cardiology Association
http://www.tkd.org.tr/dernek/hakkinda
Founding Member, Mother and Infant Health Foundation
http://www.annevebebek.org/uyeler.asp