All through my life, in all the 'firsts' and successes I have achieved, the highest honor and happiness bestowed on me arose from having been introduced as a "Turkish Surgeon" in all settings.

A Few Memoir
Gaining the Trust of Patients
The word "surgery" generally intimidates the patient, but the words "heart surgery" produce a much deeper, more terrifying effect on the patient's mental state. Psychologically, the patient feels closer to death. After the surgery, some patients express their feelings by saying: "I went, I came back." It is perfectly normal to be afraid; the patient who says he's not afraid is either lying or he's not normal. However, if the fear turns into panic and the patient changes his mind about having surgery, it means he will miss his chance to live.
It is the surgeon's responsibility to help the patient overcome his fear. No matter how busy you are, whatever your circumstances are, you must always pay attention to your patient. You may be doing heart operations everyday, but your patient is going through something that has happened to him for the first time. You must make your patient feel that his doctor cares for him, attends to his needs, and concentrates on the issue as much as the patient himself does; only then can he entrust himself to you. Attending to the patient, talking to him and winning his heart constitute half the cure. Patients who come to have surgery encouraged with this confidence regain their health much faster.
Once, during my Hacettepe years, I was going to perform mitral valve surgery on a young man in his early twenties. My assistants told me the young man was so afraid that he had come close to fleeing the hospital. The evening before the operation, when I was on my rounds, I talked to the patient and gave him some details about his surgery. Suddenly, he opened the drawer of his bedside table and took out his pack of cigarettes. He pulled out a cigarette and asked me, "Doctor, would you smoke a cigarette with me?" My assistants who knew I was totally against smoking fled the room in confusion.
"Sure, my son," I said, and sat on the side of the bed. He took a few drags from his cigarette and then he put it out. I did the same. "You can take me to surgery right now if you wish," he said. "I don't care if I die. I entrust myself to you with deep confidence." At that moment he had overcome his feeling of loneliness. If I had acted angry and said, "You have a heart problem, how can you possibly smoke?", he would have been instantly crushed.
A heart specialist must not only be a doctor of the heart but of the mind as well. Like a psychologist, he must try to understand the patient's thoughts and emotions, and share his troubles and distress.
Importance of Team Work
Another important point is the competence of the surgical team and the compatibility of the team members. You could build the most perfect hospital in the world and ensure the highest level of luxury, but if the human factor is inadequate, that hospital is no good. No tool in the world, however perfect it may be, can possibly replace the human factor. What is important is to properly educate the individuals who will be using those tools. I would like to take this opportunity to extend my deepest gratitude and thanks to all my team members for their great support toward the successful conclusion of all the surgeries I have performed. Today, each and every one of them works with dedication to contribute to human health in the field of cardiac surgery.
Telephone Surgery
Another unforgettable anecdote from my Hacettepe days is about an open heart surgery performed in my absence,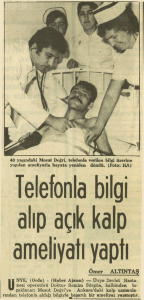 following the instructions I gave on the phone. In Ünye, a small district on the Black Sea, a 40-year-old man had been stabbed five times in his heart and taken to Ünye State Hospital in a state of coma. Dr. Samim Süngün, who had previously been my student at Hacettepe, was working in that hospital. I was in my room at Hacettepe when Dr. Süngün called and asked me what he could do about this case with which he was quite unfamiliar. Unable to see the patient of course, I asked Dr. Süngün to connect the line to the surgery room without delay. He did so, and then he began to describe in detail everything he saw on the operating table. As he went on telling me, I was giving him instructions as to what he should do at each step. The operation was successfully concluded and the wounded man survived. The next day I called Dr. Süngün and congratulated him for having done his best to save his patient's life.
Visiting Dr. Rudolf Nissen
In 1969, I went to the world-renowned Karolinska Institute in Sweden for a week. I was hoping for an opportunity to meet Dr. Rudolf Nissen, whose name I'd been hearing ever since I was a student. To the best of my knowledge, at that time he was Director of Surgery Clinic at Basel University in Switzerland. I called the university and they told me Nissen had retired two months ago, but continued to work in his private office. I called the number they gave me, introduced myself to his secretary and told her we wished to visit Dr. Nissen in his office, if he would consent, at his earliest convenience. On that trip I was accompanied by Dr. Ali Arslan, the perfusionist who operated the heart-lung machine at Hacettepe. A minute later the secretary called back to tell me Dr. Nissen would be expecting us the next day at 1:00 PM.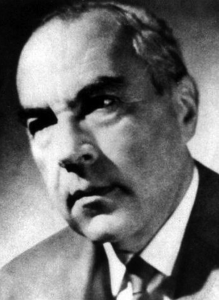 (1886-1981)→
In the evening we flew from Stockholm to Zurich. The next day after a one-hour train ride, we arrived in Basel and we were at Nissen's office at 12:45 PM. The waiting room was full of patients. As soon as the first patient came out, Dr. Nissen welcomed us into his room. He still looked vigorous and powerful. He was very pleased to see us and we had a long chat. He asked many questions about Turkey and the university. Several times, concerned about the patients waiting outside, I asked for permission to leave. Each time, he would stop us and say, "Never mind, they come here everyday, do stay a little longer," and go back to our conversation. When he gave us so much of his time, I told him the anecdote about my interview with Dr. Abbott, (which I mentioned in US. Years pages). He was deeply moved. "You've made me very happy by defending my rights in foreign lands," he said. "But don't forget that the truth does not remain concealed forever. It's revealed sooner or later. Wait, I'll show you something." He pulled a folder from his desk and handed me the letter he took out. The letter was from Graham. He had written that the credit letter, sent to him by the American Medical Association on account of the first pneumonectomy, had to be addressed not to him, but to Dr. Nissen who had performed that operation before he did. Filled with emotion at having witnessed a most meaningful gesture, I asked for permission to leave. He stood up and held my hand in both of his. "I have only one disappointment," he said. "During the 40 years that elapsed, I was not invited to Turkey even once."
I left with my head down, filled with deep sorrow, thinking that we had to make it up to this great man before he departed from the world. I was determined to take action when I returned to Ankara. The next day I visited Professor İhsan Doğramacı and told him about all this. "We must invite Dr. Nissen," I said. Responding positively to my request, "It's a very good idea," he said, "Nissen was my teacher, too." However, he added, "Let's wait for six months and take care of some inadequacies at Hacettepe. We will then invite him." When I reminded him six months later, he said: "We are not ready yet. We'll do it a little later." As I waited for him to bring up the subject again, a rather long time elapsed.
In 1972 or 73, at which time I was Dean of Faculty of Postgraduate Education and then Dean of Faculty of Health Sciences, I had returned from an overseas trip and visited İhsan Doğramacı. He said, "Aydın, when you were away, the senate passed a decision about awarding three distinguished scientists with Honorary Doctorate Degrees."
Doğramacı also said that, as the Dean, I would be delivering an introductory speech for one of them. "Who would you like to introduce?" he asked. I replied: "Sir, I wish to congratulate you with all my heart. It is so meaningful to honor the distinguished people who have contributed to medical science and humanity, and to introduce them to the younger generation. It happens quite rarely in our country, so we must take every opportunity to make up for it. But, please allow me to make a different suggestion and present another candidate." The considerable authority and weight of our Professor over us would not permit such a reply. He frowned, but he still asked: "What is your suggestion?" I said: "Sir, if you will, let's invite Dr. Nissen for the Honorary Doctorate, and let me make the introductory speech." Doğramacı agreed with me: "You are right; we are already late in inviting him. Call and tell him this afternoon without further delay"
As I walked back to my room, I was overjoyed. I called Dr. Nissen and told him about our invitation. He thanked me in excitement and joy. "It's a great honor for me," he said. "I am so happy to receive such an invitation from Turkey." Then, his voice became shaky and his words were confused. Suddenly I heard a woman's voice on the phone. "Dr. Aytaç," she said, "Nissen is too excited to speak. His Parkinson has advanced quite a bit lately. He truly wants to go to Turkey and he will certainly go if his doctors permit him."
We sent him the senate decision, the formal invitation and the plane ticket. Unfortunately, the doctors did not give him permission and he could not attend the ceremony which took place on December 30, 1973, Sunday, at 11:00 AM. I made the introductory speech and President Doğramacı gave the relevant documents and the honorary certificate to Professor Derviş Manizade, who had attended the ceremony on Nissen's behalf.
Professor Sadi Uzunak from Istanbul University also received the Honorary Doctorate degree at the same ceremony. In the speech he made to express his thanks, he said, "As Professor Aydın Aytaç was speaking, I felt my eyes fill with tears. Hacettepe University has saved us much embarrassment. The honor bestowed upon Dr. Nissen has pleased me far more than the one given to me." The ceremony was conducted elegantly and I felt peaceful inside. Nissen had been invited to Turkey while he was still alive, and the reason for the invitation was an award of the highest order, "Dr. Honoris Causa". Afterwards, I wrote a letter to Nissen, describing the entire ceremony in detail.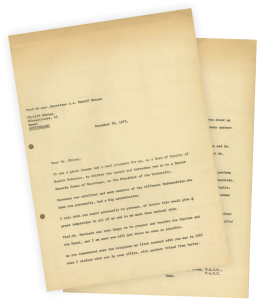 Now I no longer heard Nissen's voice saying, "I haven't been invited to Turkey even once after I left." The deep pain was gone and I was at peace, thinking he would depart from this world believing that Turkish people appreciated his contributions to their country.
Nissen also sent me a letter of thanks after he received the Honorary Doctorate certificate. He had concluded his letter with the following sentence: "I assure you that you have added a new link to the chain which bound me to Turkey for forty years."

A Story I Wrote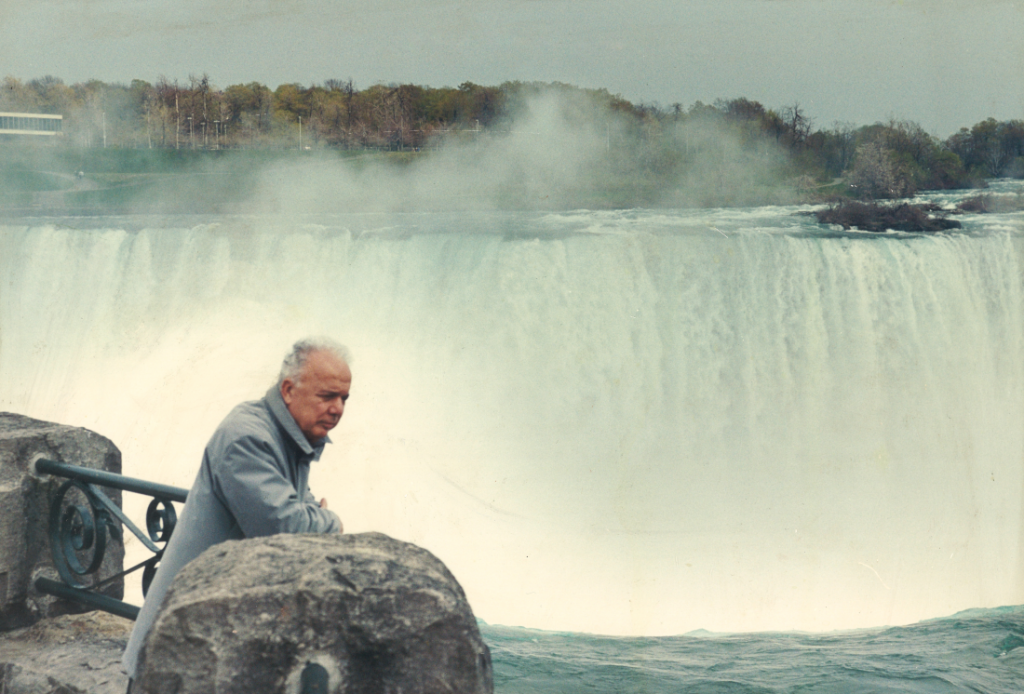 * The doctor who is the hero of the story has taken his name from my first grandson Cüneyt who was born at the time I was writing this story.

The Other Son of Fatma Bacı
A True Story
Written by Aydın Aytaç (1978)
When Doctor Cüneyt woke up Sunday morning, it was almost 10 o'clock. The lateness signified the first chance of relaxation he had found after the intensive, exhausting tempo of the last few weeks. He looked at the clock, first with astonishment, and then with a smile. It was impossible not to enjoy this moment. His profession required working till late hours and showing up in the hospital quite early the next day, despite the fatigue, which was the natural result of his schedule. These circumstances often extended to include the weekends and holidays, and sometimes there were emergency calls during the night as well.
Waking up peacefully at a late hour like this was something he really missed. Sliding his relaxed body back into the cozy lap of the bed, he started thinking about the things he might do that day.
It would be so nice to pay visits to some relatives; it was something his wife had been wanting for a long time, but they had to postpone it several times because of his work. Or he might do some writing concerning the Medical Congress he would be attending next month. And at night, keeping in mind the long hours of surgery the next day, he would have to go to bed at a reasonable hour. Most of all, even though it was a Sunday, he must go to the hospital, visit the patients whose heart surgeries he had done during the week, see how they were doing, and get the views of his assistants on duty who were in charge for the care and follow-up of those patients. Acting upon this decision, he was in the hospital within an hour and was already doing the rounds with his young colleagues.
He truly enjoyed these visits. They reminded him of the years when, as a young assistant, he spent long interminable days in the hospital corridors and by the side of the patients' beds. How eagerly he would wait for his professor to do the rounds so he could show him the patients he had laboriously cared for and who were fine now! The actual reason behind this waiting was his curiosity as to what they would say and what kind of guidance they would offer in cases where he was hesitant and worried because of inexperience. He would listen to them with rapt attention and, when they were gone, he would be absorbed in his work with more confidence and courage. Sometimes their suggestions and advice would coincide exactly with his views and then, with infinite pleasure and pride, he would imagine himself as a famous surgeon at the summit of his career.
As a matter of fact, these dreams had come true almost in a flash. After completing his residency and returning to his country at a rather young age, he had become a well-known heart surgeon with significant contributions to the field. The fact that hundreds of patients sought him for the most challenging heart surgeries every year gave him profound satisfaction and justified pride. However, his greatest joy was to be known as a humanistic doctor deeply attached to his profession and his patients whose happiness and sadness he shared with all his heart.
As usual, on that peaceful Sunday he started his rounds with these thoughts on his mind. It was one of those rare days when all the patients were well and trouble-free. This mood had passed on to the doctors and nurses in charge and they were all cheerfully doing the rounds with their professor.
At last they came to Mehmet's room which was at the end of corridor, on the left side. Mehmet was a 21-year-old well-built young man, but the rheumatism which had struck him as a child had affected his heart and gradually begun to make itself felt. Still, he didn't know how serious it was until he was called for an examination for military service. Then the truth slapped him in the face. How painful it must have been when they suddenly said he had rheumatism of the heart, so he could not be a soldier. To be invalidated out! He would rather die. How could he look at his mother's face, his mother who was so proud of him, who kept talking about her "lion-hearted" son everywhere? How could he walk around the village square, where people used to point at him from afar and say "There is Fatma Bacı's brave son Mehmet! God bless him, he's strong as a lion!"
Mehmet was crushed, devastated. No other news could have shaken him as deeply as this one. But what crushed him even more was what his mother, Fatma Bacı of the entire village, would do when she heard the news.
Fatma Bacı was an Anatolian woman whose luck had deserted her long ago. Three years after she got married, she had lost her husband. who was a giant of a man. Built like a wrestler and called "Hüseyin Abi" by all the villagers, the man was emaciated and gone within a month because of some illness nobody could diagnose. From then on, Fatma, the beautiful girl of the village, was called by the name of Fatma Bacı. She was illiterate, but had powerful instincts; she was smart and tough like all Anatolian women. She was drowned in inconsolable pain by the loss of her man. But she did not collapse. Struggling on her own with the storms inside and the challenges outside, she continued her life. Her features had hardened; she was blunt and she behaved more like a man. But she was not sulky. She believed in God and fate. Her two sons were her biggest consolation; she worked hard for them and was filled with happiness, albeit a bittersweet one, when they were joyful.
Her children had grown up, thank God, without giving her any trouble. Especially Mehmet! He had become a handsome lad, whom like his father, was built like a wrestler. Whenever she looked at him, her eyes would cloud over with tears and she would pray: "My Dear God, thank you for not taking away my man before you gave me my Mehmet."
However, the brutal news had shaken that happiness to the very roots. Mehmet could no longer be a brave young man. Behind that lion-like façade, he was a boy with a defective heart, an invalid who had been rejected by the military!
Fatma Bacı was thunderstruck. What was she to do now? She had not felt so desperate even when she lost her man. Desperation consumed her like a blazing fire. She had to do something; she had to find a way out. Mehmet had to be saved, he had to live and be a young lion once again. But what could she do? She was an ignorant peasant woman.
When she shared her thoughts with her sister, she said: "Don't worry, sis, there must surely be a way, let me go ask the village headman's wife." She was smiling when she came back two hours later. The headman's wife was a smart and considerate woman. She had heard about a child from the town, who had a sick heart and was taken to Ankara, where he was saved by a doctor who had recently returned from America, and the child was in very good health now. They had to take Mehmet to him. The headman's wife had said that the doctor could cure Mehmet, just like he cured that town kid.
A vague hope pervaded Fatma Bacı's heart. After all, her dear son could perhaps be healthy like before.
Well, that Sunday, the day of the visit, exactly ten days had passed after Mehmet's surgery. The operation was very successful; the valves which had been stuck because of the rheumatism were opened and the adverse effect of the disease was eliminated. After the surgery, Mehmet had recovered very quickly and the last few days he could no longer be contained in the department. Whenever we looked for him, he would be either in the hallway or the garden. Especially on the visiting days, the change in Mehmet was quite noticeable. On those days he was waiting for his mother, so he could hug her and kiss her hands.
The entire department had heard about the story of Fatma Bacı on the very day of the surgery. Imagine, a brave young Anatolian boy gets hospitalized for heart surgery and his father doesn't show up! It was a rare case indeed. When they asked, Mehmet's eyes filled with tears and he told them the entire story of his father, whom he didn't remember at all, and his mother, Fatma Bacı. Ever since that day, everyone in the department cared even more deeply for Mehmet and they were especially friendly and respectful toward Fatma Bacı when she came to visit her son with her sister. Always full of concern and care for all his patients, Doctor Cüneyt attended to Mehmet with utmost consideration after he heard the story of this Anatolian woman.
However, Mehmet looked a little pale and sick that day. He had just come in from the garden. On Thursday when Fatma Bacı had come to visit Mehmet, the doctor had broken to her the happy news that her son would be released on Sunday. Although the visiting hours started at two in the afternoon, Fatma Bacı had set out toward the hospital in the morning and kept pulling at her sister's hand, thinking maybe he'll be released a little earlier, let's not be late. When she talked to Mehmet in the garden, she had learned that he had a little diarrhea since the night before.
The doctor examined Mehmet thoroughly. As far as the heart was concerned, his condition was excellent. He could have been released despite the diarrhea, but the doctor decided to keep him one more day for intravenous treatment to compensate the loss of water. When he called the mother outside and told her of his decision, Fatma Bacı looked at her sister first and then spoke in a sad tone:
"Okay, Doctor, you know what's best… Actually, we would take care of him if you let him go…"
Dr. Cüneyt stroked her hand gently and replied:
"Then his recovery might be delayed ten to fifteen days. You leave him with us one more day, then come and fetch him tomorrow afternoon, Fatma Bacı."
The sisters left a little wistful, but blessed with the peace of people who have faith and confidence.
With visits to pay to relatives and papers to be corrected, the day passed and Dr. Cüneyt could finally go to bed at an hour later than he had planned to. He woke up at the shrill scream of the telephone on the bedside table. At the other end of the line was the head assistant on duty.
"Sir, Mehmet has a fever of 106 degrees Fahrenheit. He can't breathe easily. I'm afraid it is pulmonary edema… Could you possibly…" Doctor Cüneyt interrupted before the sentence was completed: "I'm coming right away." He jumped out of bed and got dressed quickly. In a little while, he was at the hospital. He rushed into Mehmet's room as the clock struck midnight. Poor kid, despite all his suffering, he tried to rise from his bed with a flicker of joy in his eyes. Dr. Cüneyt promptly examined his patient and asked about what was done. In the afternoon they had started the antibiotic treatment and given one bottle of serum to make up for the loss of water due to diarrhea. When that bottle was finished, a second bottle was started around 10 o'clock at night. And it had all happened after that second bottle. The fever had gone up very fast and reached 106 degrees in half an hour. Apparently some microbes in the second bottle had gotten into the blood. Realizing that something was wrong, the doctor on duty had acted immediately, removed the IV bottle, given the patient two injections to lower the fever, and seeing that there was no improvement he had called his professor. Meanwhile, a visible shortness of breath had occurred. Dr. Cüneyt gave the patient an intravenous injection to fortify his heart. They placed ice bags all over his body to lower the fever. The shortness of breath was getting worse. Dr. Cüneyt checked the lungs again. The edema due to heart failure had increased even more. He injected two diuretic ampoules one after the other. It was nearly one in the morning. Instead of improving, Mehmet's condition was going from bad to worse. He was still looking at his doctor with a trusting smile, but it was obvious that every breath now exacted a greater effort to inhale.
Wiping with the back of his hand the big drops of sweat on his forehead, Dr. Cüneyt asked for another intravenous injection.
The patient was almost sitting up in his bed now, trying to breathe as if he were going to swallow the oxygen mask held before his face. A pink froth had begun to appear on the side of his mouth. The edema had completely invaded the lungs now and there was very little space left for the air to enter. Mehmet's heart was pounding as if it would burst. There was no need to feel his pulse. Each beat of his heart was a blow and a visible bulge on his chest wall. All the doctors and nurses in the department had filled the room. Doctor Cüneyt was desperately trying to help his patient, using all medical possibilities and everything he knew, but his hopes were getting thinner and thinner with each passing minute. Mehmet's newly operated heart could not perform the huge pumping task caused by the extremely high fever, and gradually, heart failure and related pulmonary edema were altogether increasing.
Toward two-thirty, the fever seemed to go down a little. The young doctors looked with hope at each other and their professor. Dr. Cüneyt repeated the examination. No, there was no improvement. Another 10 minutes passed. Mehmet looked increasingly weak and faint.
In a voice that came out more like a sob, Dr. Cüneyt kept saying, "Mehmet! Come on, my son. Try a little harder… Take a deep breath… Let me see you take a real deep breath. You will get well soon… You know Fatma Bacı will come to take you tomorrow. How can you go like this? Come on, my brave son. Let me see you take a deep breath. Come on!"
After a few minutes which seemed as long as hours, Mehmet opened his eyes with one final effort. He looked at his doctor with a meaningless expression, then his head suddenly fell to one side and one last word came out of his mouth in a hoarse voice: "Mother…"
Mehmet had gone. It was three o'clock in the morning. The poor boy's newly operated heart could not tolerate this pitched battle that had come too early.
Everyone in the room was crying. The nurses were sobbing. For the first time in his life, Dr. Cüneyt was unable to hold back his tears rolling down his cheeks as he stood by the patient's bed in front of his assistants.
He bent forward and lightly touched his lips to Mehmet's brow and walked almost crouching out of the room. He went into the room reserved for the doctors on call and collapsed on a chair.
What would happen now? How were they going to break the news to Fatma Bacı? For several minutes he sat motionless where he collapsed. He could not help thinking, "I wish I had released him today. That serum would not have been given then. And Mehmet would recover, though with a little delay. Oh, that bottle! Who could possibly see those microbes in it?"
Among tens of thousands of sterile and microbe-free bottles, that bottle had somehow gone to that boy. If it had gone to another patient, he could definitely have been saved with the right treatment. But Mehmet's case was different. That narrow valve had been opened and the heart had started pumping large quantities of blood like it had never done before. It would take time to adjust to this more demanding task. An additional extra load, a very high fever for a few hours just in these first days, had led to a total breakdown. If it were one month later, Mehmet's heart wouldn't be affected at all by such a problem.
How he regretted not having released Mehmet that day!
With the best intentions, he had wanted to deliver his patient to his mother in good health… But what did it matter now? Mehmet, the brave son of Fatma Bacı, was gone now. And who else, other than himself, was in a position to explain it to her?
His head in his hands, staggering between his pain and his thoughts, he flinched at the voice of the head assistant.
"Sir, we have sent a car to Fatma Bacı's village. They'll go and bring her here. The driver will tell her Mehmet is a bit ill. Going and returning takes two or three hours, they say. You are exhausted. You must go home and get some sleep. We'll try to tell her and soothe her as best as we can."
Go home? No! Dr. Cüneyt could not possibly go home. He must tell Fatma Bacı himself. Just as it was his responsibility to save his patient, it was also his responsibility to live this bitter moment with her; to hold her hands again, just like he had done that afternoon, and share the pain of this ill-fated poor woman. Would she not call him anyway when she heard the news? Would she not ask him why her son had died? If even he did not know how to answer this question, how could he possibly ask someone else to do it for him?
But then, how was he going to tell her? The woman had lost her husband at a young age. Poor man had emaciated and died before her very eyes. But that had at least gone on for some weeks. How about her son? Instead of taking her young lion home that day, she had left him there for the doctor's sake, and gone back home dreaming she would come back to fetch him the next day. Could she be expecting to hear a knock on the door in the dark of the night, and a voice bringing her bad news from her son? Could she have possibly thought about his death and could she endure this sudden truth which hadn't ever crossed her mind?
It was five thirty in the morning when there was a knock on the door. From behind the head assistant, Fatma Bacı came into view, accompanied by her sister. Her hair was disheveled and she looked confused. She quickly looked around the room as if she were searching for something. She had not opened her mouth yet. She was walking right and left, looking at the faces of those in the room and shifting her glance from one person to another, expecting one of them to say something. Her fear was too evident. There was a kind of desperation in her gaze begging to hear something which would offer just a little bit of hope.
Doctor Cüneyt felt his legs tremble as he approached her slowly. He put one hand lightly on her shoulder apprehensively and held her hand in his other hand.
"Sit down, Fatma Bacı," he wanted to say. For a moment he thought his voice wouldn't come out. He couldn't hear the words he said himself.
Fatma Bacı did not sit down.
"Where's my son? Where's my Mehmet? Has he fallen ill again?" She was asking questions one after the other without waiting for an answer.
Nobody had the strength to say anything. The sister who stood by her side, a little behind, had taken Fatma Bacı's arm, standing as if she wanted to hold her sister if she collapsed.
Dr. Cüneyt tried to gather all his strength.
"Fatma Bacı, Mehmet's condition suddenly worsened at night. We all did what we could, but…" He couldn't complete his sentence. There was no need anyway.
Fatma Bacı had understood the bitter truth. She was almost reeling in shock. Her brave Mehmet, the mainmast of her existence, the son to whom she had devoted twenty-one years of her life, was no more. Her face suddenly tightened. For a short while which seemed like a century to every one, she stayed motionless, then with an indescribable fury in her eyes and a voice unexpectedly harsh and forceful, she spoke:
"Doctor, if you were going to kill my son, why did you operate on him?" As she roared, she was stamping her right foot with rage.
A terrible silence descended on the room. Her sister spoke in an agitated high-pitched voice:
"What kind of words are those, Sis? You know how hard the Doctor tried, how much effort he put forth for Mehmet." As she spoke, she was almost forcing her sister out of the room.
Doctor Cüneyt was devastated. He felt his knees give way. Struggling not to fall, he stumbled to the chair and fell onto it. Nobody could say anything. Everyone was in deep sorrow and despair. This big-hearted courageous man, who had waited there for three hours to give the bitter news himself, even though he could have gone home and slept, was all of a sudden totally destroyed. The last bits of his energy were gone when those heavy words had hit him like a slap to the face. When he stood up again, he saw that everyone in the room was waiting for him with their heads down, their hands clasped in despair, in an atmosphere of austere respect. He walked out quietly. He was going back to his bed which he had left at the shrill sound of the telephone and where he knew he wouldn't be able to sleep during the rest of the night.
A year had elapsed. Dr. Cüneyt's intense daily grind went on just like before; weary days and sleepless nights followed each other. But he was content. When he saw the happy expression in the faces of recovering patients and those close to them, his entire fatigue was instantly swept away. As for Mehmet and Fatma Bacı, he could not ever forget them. He was not at all angry with Fatma Bacı, even though she had said to him the bitterest words he had ever heard in his life. He was ready to endure much more, if he could believe it would alleviate her suffering even a little bit. Fatma Bacı was a great woman who deserved all respect. Oh, how he wished he hadn't caused her so much suffering and made her lose faith in her doctor!
A couple of more years passed. Time was simply flowing away. One day, the secretary knocked on his door.
"Doctor, Fatma Bacı and her sister are here," she said and added, in a voice growing faint, "you know she had a son, Mehmet," trying timidly to remind him.
Dr. Cüneyt was petrified for a moment. He wondered why she had come. Whatever was going to happen now? He knew that this steely woman's pain would never wane. She had lost her young lion, her Mehmet, as a result of a surgery he had done. Maybe she was accusing him now with a steadily growing intensity. For a moment he thought Fatma Bacı would never forgive him.
Would it be better if he didn't see her? No! He was ready to face her. No matter what he was going to hear, he had a clear conscience. At a positive sign from him after a brief moment of hesitation, the secretary stood aside and opened the door to let the two women into the room. Fatma Bacı was walking with slow timid steps ahead of her sister. She looked as if she felt guilty. But when she started to speak, she held her head high and spoke with the confidence of determined people.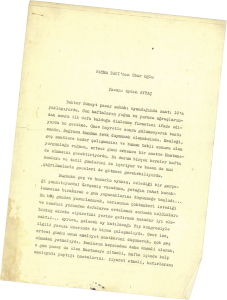 "Doctor," she said. "You never saw him, but I have another son a year younger than my late Mehmet. Some time ago he had an examination for military service. He has the same illness, too. They say he needs surgery. If you agree, I want you to do the surgery." As she spoke, tears were rolling down her cheeks and she was trying to wipe them away with her hand.